Sewage Treatment Services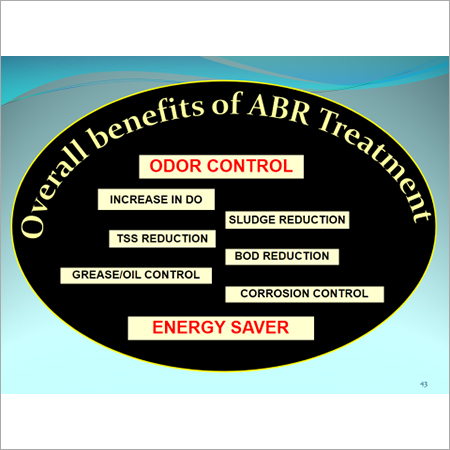 Sewage Treatment Services
Product Code : ABR 01
Brand Name : JM ENVIRO TECHNOLOGIES
TREATMENT TECHNOLOGIES

1. ABR TECHNOLOGY

Anoxic Bioremediation (ABR) Technology is an innovative technology for treatment of domestic sewage discharged into open drains, rivers, lakes & ponds. It is a cost effective treatment process which works with nominal consumption of electricity, highly result oriented and advance technology in field of wastewater Treatment.

Nature has its own process of wastewater treatment in water bodies by maintaining DO level with help of naturally occurring microorganisms, enzymes, biochemicals and weather conditions but it takes very long period to eliminate both natural and most manmade pollution. Recent advances in technology have made it possible and greatly accelerates these natural processes by using some BIOLOGICAL PRODUCTS with SPECIAL COMBINATION OF MICROORGANISMS having ability to adapt the environment and decompose the waste in shortest period of time.

ABR (ANOXIC BIOREMEDIATION) TECHNOLOGY is one of such processes where the appropriately selected combination of microorganisms eliminate the pollutants from domestic and industrial wastewater and sludge much faster than conventional method of treatment and with extremely low expenditure.

This technology is developed with the help of special blend of Strict and Facultative Anaerobic Live Bacteria present in PERESNICKETY®713 utilizing combined form of OXYGEN presents in NITRATES (NO3) instead of DISSOLED OXYGEN dissolved with the help of aerators in treatment plant.

APPLICATIONS OF ABR TECHNOLOGY

This technology is successfully implemented for treatment of domestic and industrial wastewater in order to reduce odour generation and bring down pollution in terms of BOD and TSS under Standard Limits of CPCB:

1. Sewage Treatment Plants, Lifting and Pumping Stations
2. Any water body such as ponds, lakes, river and Open drains
3. Oxidation ponds & Lagoons
4. Trunk Sewers and gravity lines
5. Septic Tanks & Grease Traps
6. Industrial Wastewater of Food based industries rich in organic contents but free from heavy metals and petroleum products as indicated below:

Slaughter houses & Meat processing
Distilleries
Cheese /dairies
Vegetable /food canning
Beet sugar / Sugar
Soy beans
Rendering
Paper and pulp etc.
2. Manufacturing, Supplying and Services

Design, fabrication, erection and commissioning on Turnkey basis of air and water pollution control equipment's/plants.
Effluent Treatment Plant (ETP)
Sewage Treatment Plant (STP)
Water Treatment Plant (WTP)
Recycling of sewage and industrial effluent
Upgradation of ETP/ STP
Bio-mass development in secondary treatment system for ETP/ STP
Operation and Maintenance of ETP/ STP
Preparation of Feasibility Report for ETP/ STP
Benefits Achieved with ABR Treatment

It is demonstrated very effectively that ABR Technology with Persnickety®713 is a Unique Treatment Technology and has potential to treat wastewater with below mentioned benefits:

1. No Electricity or any other source of energy is required for treatment of wastewater and achieve the desirable level of pollutants.
2. Persnickety®713 has cleared the accumulated sludge in STP.
3. Algae accumulated on the wall of Treatment tanks have fully disappeared because algae serve as the food for live bacteria present in Persnickety®
4. The treated water quality is much under the parameters laid down by CPCB so reused for irrigation without any limitations.

Trade Information
Payment Terms
Cheque, Others
Main Domestic Market
All India
Contact us
JM ENVIRO TECHNOLOGIES PVT. LTD.


Conserve Waters! Preserve Lives!

C-22, Lajpat Nagar-III, New Delhi - 110024, India
Phone :+917042545565
Fax :91-11-46542597
Key Person
Mr. Santosh Jena (Sr. BDM)
Mobile :+917042545565