Hauz Khas Lake Treatment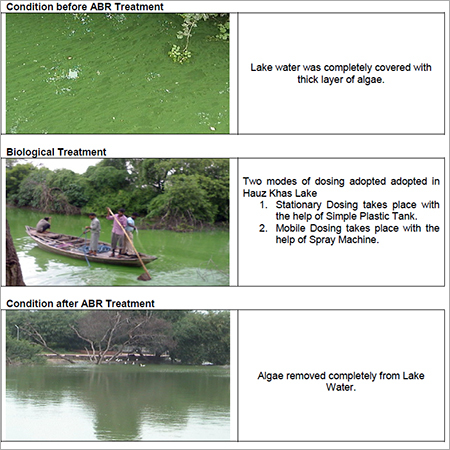 Hauz Khas Lake Treatment
Product Code : CS 07
Brand Name : JM ENVIRO TECHNOLOGIES PVT. LTD.
Hauz Khas Lake, Delhi
Hauz Khas Lake was made by Khilji Sultan Alaudin in 1316 and is part of Delhi Natural Heritage. Lake receives treated effluent from near by Vasant Kunj Sewage Treatment Plant. The lake restoration was started, without any scientific method or procedure. It resulted in low water level in the 80,000 meter square lake with thick cover of filaments algae, as you can see in picture 1.

To prevent rapid complained of odour emission and unpleasant site scene from tourists & residents of nearby areas, Delhi Development authority (DDA) gave contract to M/s JM Envitotechnologies Pvt. Ltd for Upgradation & Beautification of lake by applying Specific Biological Treatment called Anoxic Bioremediation Technology (ABR) using some selected anaerobic and facultative microbes.

The treatment of Hauz Khas Lake was started on 13th of July, 2007 with daily dosing of biological product in entire lake water. Weekly monitoring was being done under supervision of DDA, INTACH, and DJB & SEEMA laboratory. Weekly improvements can be seen in picture 2.

Over all achievement of ABR Treatment are stated underneath:

The lake water was completely free from odour.
Completely free from algal webs and further growth was controlled.
Water quality was improved significantly in terms of BOD 70 to 12 mg/L and Turbidity from 102 to 28 FTU
The overall improvement can be very well visualized in pictures 3.


Trade Information
Payment Terms
Cheque, Others
Main Domestic Market
All India
Contact us
JM ENVIRO TECHNOLOGIES PVT. LTD.


Conserve Waters! Preserve Lives!

C-22, Lajpat Nagar-III, New Delhi - 110024, India
Phone :+917042545565
Fax :91-11-46542597
Key Person
Mr. Santosh Jena (Sr. BDM)
Mobile :+917042545565